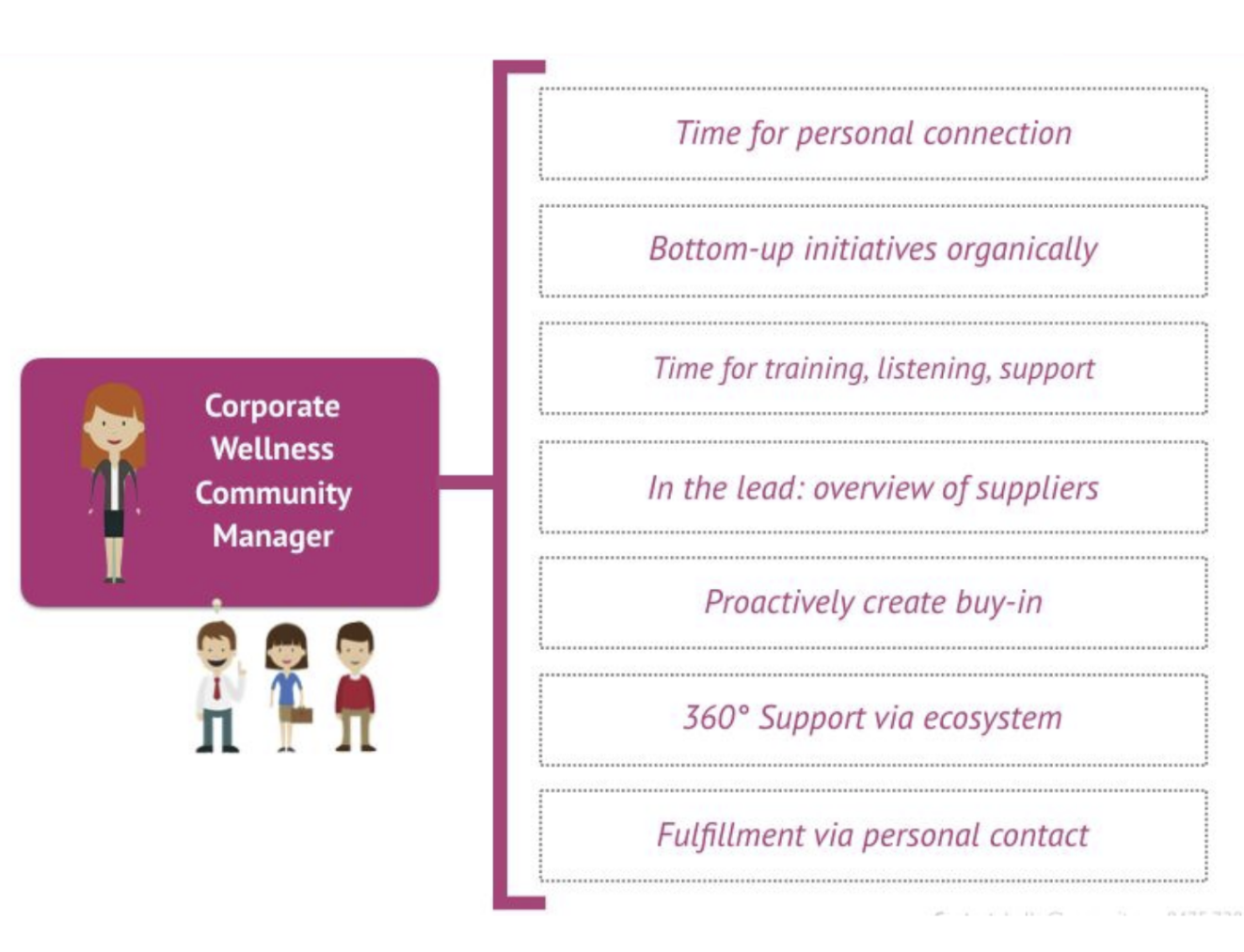 Hi!
Welcome to (almost) 2019!
Since you're reading this article, you are interested in the health and wellbeing of your coworkers. That's awesome!
Starting with this first article, I will share with you plenty of hands-on, right away implementable ideas, to create effective Corporate Wellness. 
And, in every article I'll refer to one of the services our ecosystem offers, to make your life easier,  by adding a helping hand or a reporting tool, BUT with my words and these tips and visuals, you'll consciously and unconsciously already get a step further!
So today's topic is step 1 in creating effective Corporate Wellness.
This one is all about YOU!
It's almost a new year.
What are your New Years' resolutions?
Not the "blabla" you already know that will not happen but go deep inside…
What do you crave, what do you long for?
Take a look at your past year, write, visualize, feel and… imagine you can start from scratch… how would you want your New year to feel like?
Most people share with me they want to find peace of mind, a job with purpose and … amazing colleagues…
But here's the magic.
You most likely already have everything you need to CREATE your desires right here, right NOW.
So today…
I invite you…
To feel and look at 2018…
And visualize and create 2019…
Start by YOU.
What 5 moments at work gave you energy?
What do you believe is YOUR true passion, ask colleagues: what makes your eyes shine brighter?
And ask your partner, friend or your deep self: what will you jump out of bed for?
As the main challenge in Corporate Wellness is that currently you as, HR manager, prevention advisor or the "voluntary" wellbeing team take on A LOT of tasks of which you receive not enough appreciation (not intentionally though! It's just… The results of Corporate Wellness aren't often measured and aren't in the KPI's resulting in not enough validation & appreciation… But no worries, in later articles I'll share with you how to fix that in no time!)
Today I encourage you…
To take a look at where you are right now.
Do you resonate with the ones below?
Do you feel organizing and admin of "small" events can take up a lot of down?
Are you always the one promoting and "pushing", motivating colleagues to join?
Do you feel there's very few time for real-life quality communication to get your whole organization and especially the team leads on board with Corporate Wellness activities?
Do you meet an overload of supplier making it hard to choose and do you feel all can offer a lot of value to your coworkers? Are you tired of the ongoing resistance?
Would you love more support in handling the "technical" things in organizing healthy gatherings and most of all… would you love more recognition for what you're doing? Deep from your heart? As a pure mission? To create an even better corporate culture?
Then this is YOUR go-to for 2019: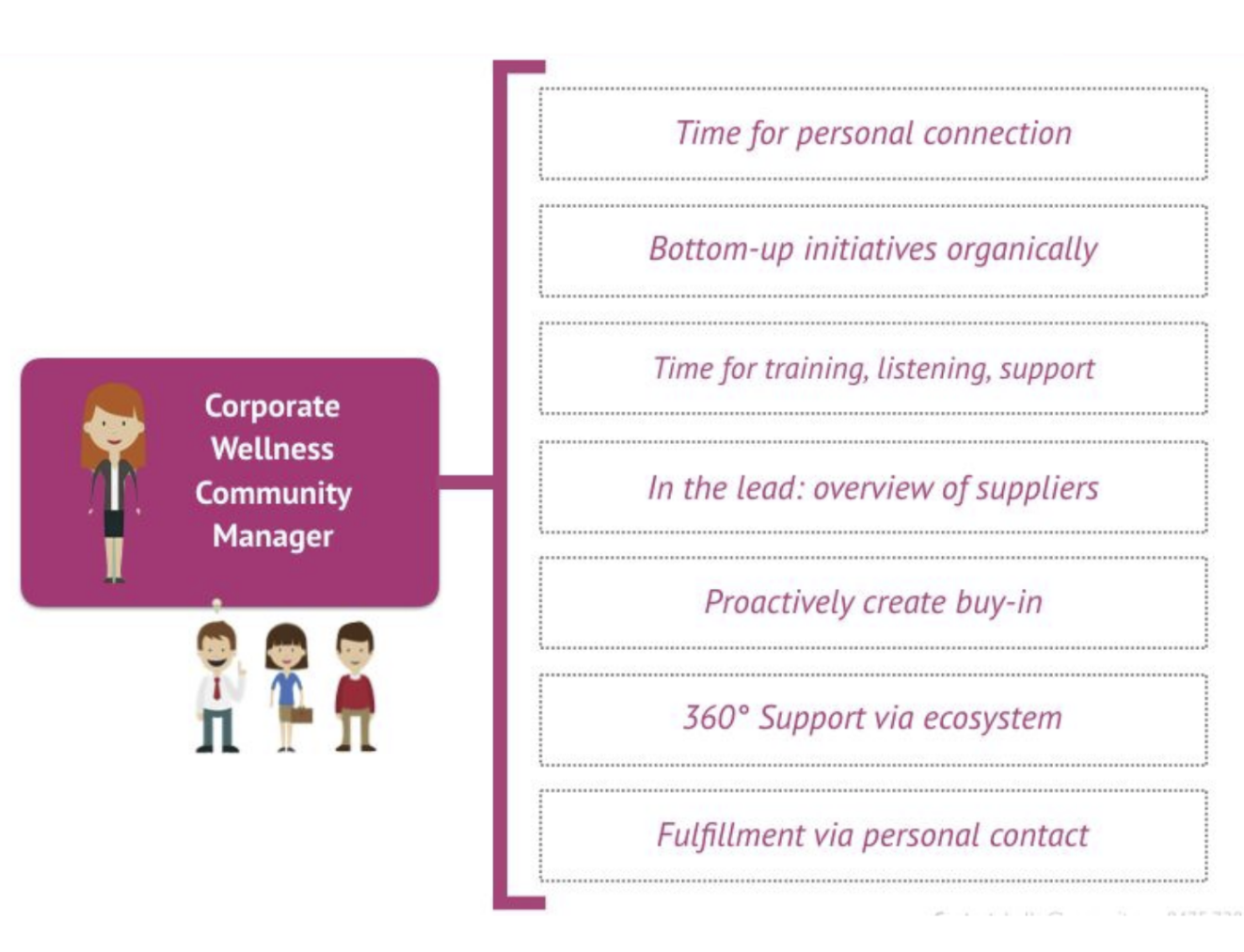 Think about the above.
Meditate on it.
How can you get time for connection, have everything organized bottom-up (YES it is a reality that coworkers ask YOU to "please organize this healthy activity I'll bring 10 excited colleagues..!), you feel in the lead, you create buy-in proactively and with ease…
Meditate.
(Nothing big, just look at 1 sentence, sit on a cushion, and let your thoughts go wild for 5 minutes ;-))
Feel.
(Visualize yourself in YOUR dream situation)
Try.
(Yes, try! The same day. Take that time for personal connection. See what happens!)
And learn by doing.
(Oh yes and "failing" is definitely part of it. Learn to fail and learn to love failing as it will take you into huge transformation.)
And if you want more.
It's a "NEW" job as you'll receive MORE time to focus on what you love most: creating the connection between colleagues with ROI for management!
It's five episodes and the first episode alone is 20 pages of exercises going deeper into all of the above. To create YOUR dream job for 2019.
The e-learning module consists of video tutorials, templates, and personal support.
You do this at your time, at your pace.
Find out all the value worth €2.500 EUR you'll receive for just €245 
here
And if you have any questions, mail me, I answer every mail.
Have an amazing last day of 2018!
Love & light,
Griet Johanna,
Founder Moov-IT.eu