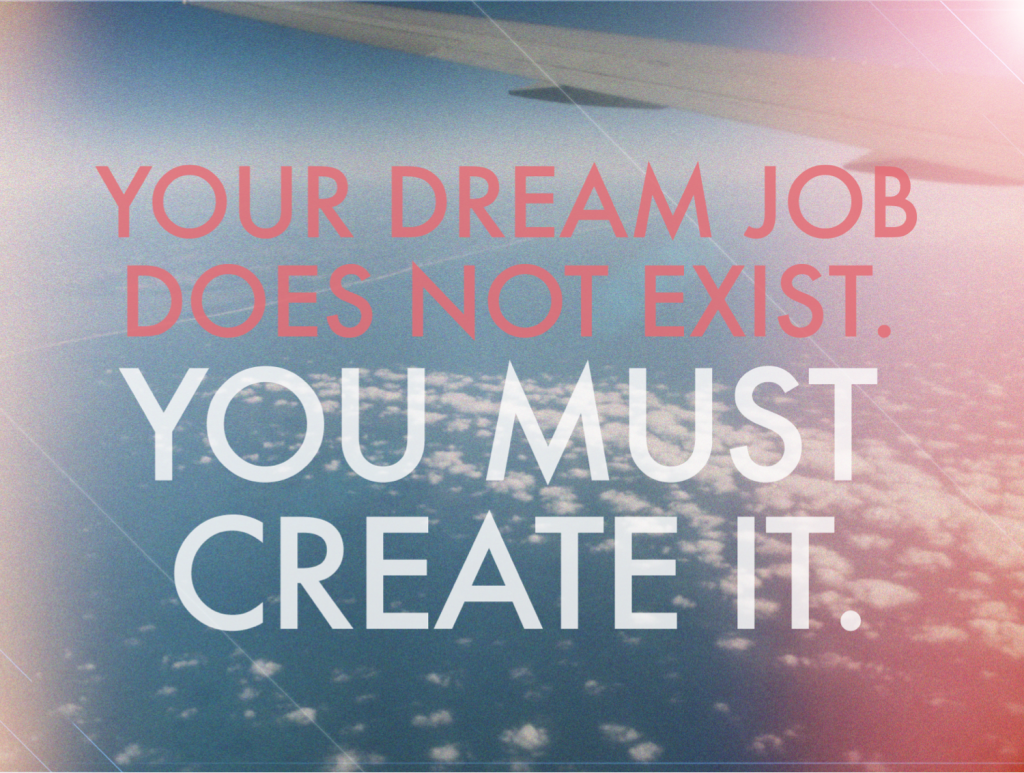 At the end of 2019, we launched our first step in the "Corporate Wellness Step 1 guide."
Over 1250 CEO's, HR & Corporate Wellbeing Leaders, just like yourself, in over 4 countries (Belgium, the Netherlands, Sydney & Vancouver) showed interest in this topic!
The world of Corporate Wellbeing is evolving, quick!Curious about YOUR TRIBE: who's from where? Check this graph 🙂
My mission is to keep you connected to your peers!
As you know, shared passion creates a deep connection, endless love, and health.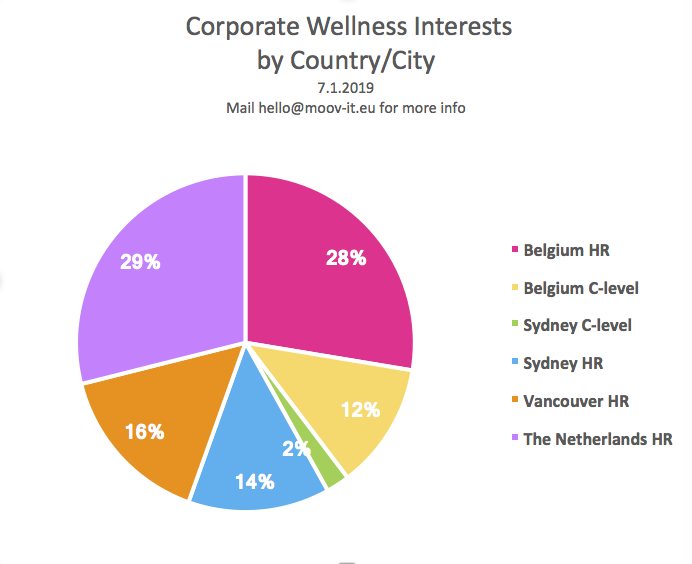 If you wouldn't have time to read "Corporate Wellness Guide 2019 – part 1- yet, you can still find it here— How has it been? —
So, how are you doing…?
Have you taken time to check what gives you ENERGY at work?
What is your true PASSION?
— I'll share the biggest secret in finding inner drive —
Thé biggest fear I see in most of the people I work with is
> even before going there…
> even before asking themselves the question…
> even before taking a look…
Is the emotional blockage that comes up
"hey..but… what if I realize I'm NOT enjoying what I'm currently doing?"
Have you had that thought passing through?
It's a normal one!
– Let's set the big perspective —
You are working (in) an organization
that specifically wanted YOU to be part
that choose YOU for your skills
that choose YOU for your mindset
that choose YOU for your attitude
So whatever your current tasks are, the tasks are not WHY you were hired.
Deeper, YOU are the reason you were hired, the whole package of YOU!
The best companies already know this…
In the future, thanks to all those IT companies out there automating all your logical, proven and recurring tasks:
> Your work-life will get easier
> You'll have more space
We are in a transition, an evolution in mankind which right now may feel like a huge work pressure
> This will naturally slow down when all new PROCESSES are in place, maybe you can feel that already
> This will naturally slow down when YOU have all new HABITS to fluently PLAY with switching tasks, based on your energy levels during the day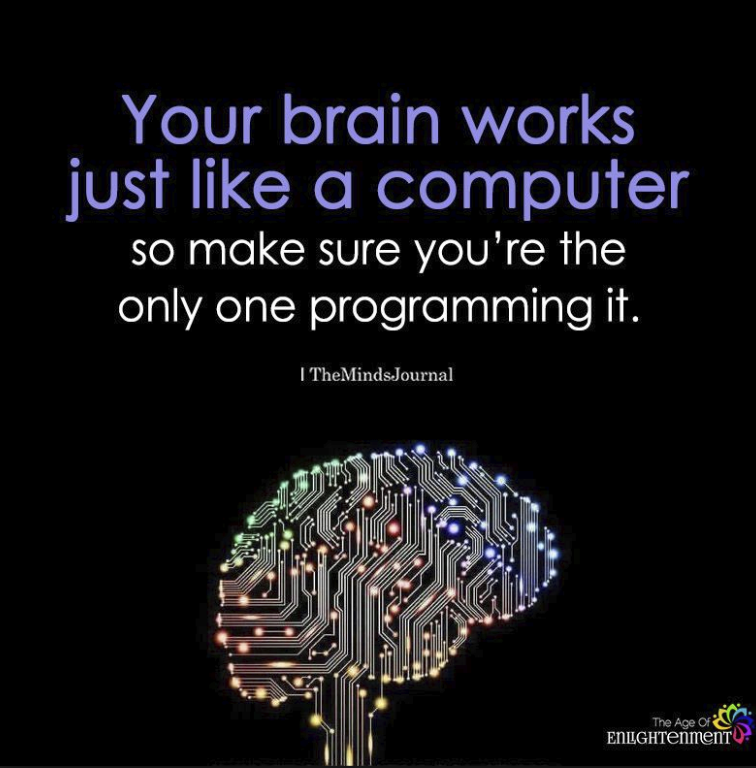 There's 3 major resources: money, time and energy.
Currently the most needed assets are time and energy.
Once "creating time" becomes a HABIT, more and more time will be available (be sure to read "the 4-hour workweek"), then all focus will be on managing your energy levels."In the future (I motivate all of you HR experts already to ask this question):
HOW DO YOU MANAGE YOUR ENERGY ON A DAILY BASIS?
WHAT TASKS MAKE YOU MOST PRODUCTIVE AND WHEN IN THE DAY WILL YOU DO THEM?"
Yes.
Companies will and ARE facilitating.
But you have to be aware and ASK for your NEEDS.
Companies recruit professionals, like you, that can manage themselves, their mind, thoughts, emotions and energy flow. My message? There's not much education on "energy" YET, so start by education yourself, by seeing your own body as your own experiment (that's why all of us are here!).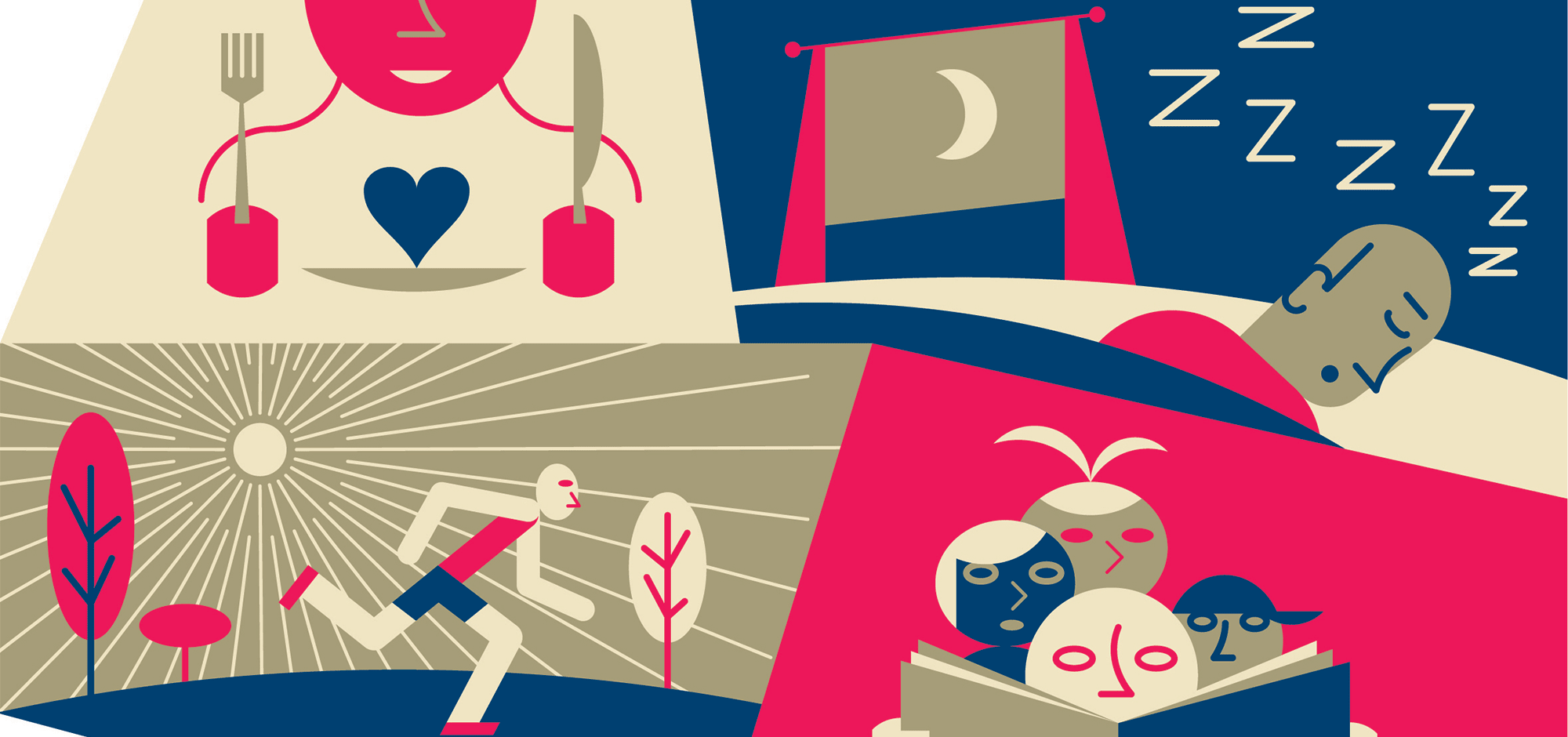 Image from this great read "Manage Your Energy, Not Your Time" by Tony Schwartz &
Catherine McCarthy
— Here's the big truth that most people are afraid to see –Your organisation WANTS you to think WITH them.
No they don't want you to ask THEM to change all organisational processes in 1 week.
Or receive strategic advice on what THEY need to change.
Or what products THEY need to launch tomorrow.
They want you to start with YOU. To focus on YOU.
To ACT and inspire colleagues.
To share how you manage your energy, your tasks, …
They want to see you GROW within the current playing field.
To give more freedom and space, once the basic trust is established.
– Everyone will create their own Dream – Job –
"The future is happening so quick that, as you might now as an HR manager, to pre-create each job in a large organisation will become impossible. It's impossible to predict EVERY task."
Top Down Leaders will create frameworks on the WHAT, and thé best organisations will make sure you FEEL the WHY. But YOU create the HOW.This is the NEW and naturally happening way, creating some resistance, mostly WITHIN people.
Millennials are doing this already (maybe somewhat in a radical way by QUITTING their job, but no worries this is just a first reaction and will soften out but is always a first step to bring a little awareness)…
There's no way to replace the huge GROWTH potential large organisations have by bringing together and organising 100s to 100.000s of people. This Co-creation potential will always exceed the potential of separate individuals grouping together. Done in the right way, large corporations can have a huge impact on society and sustainability.
Millennials (and this is a mindset, not an age) are naturally gifted with EnQ ("Energy Quotient" ) FEELING their way through to the point where they can deliver their biggest IMPACT. And that's exactly what the organisations of the future need.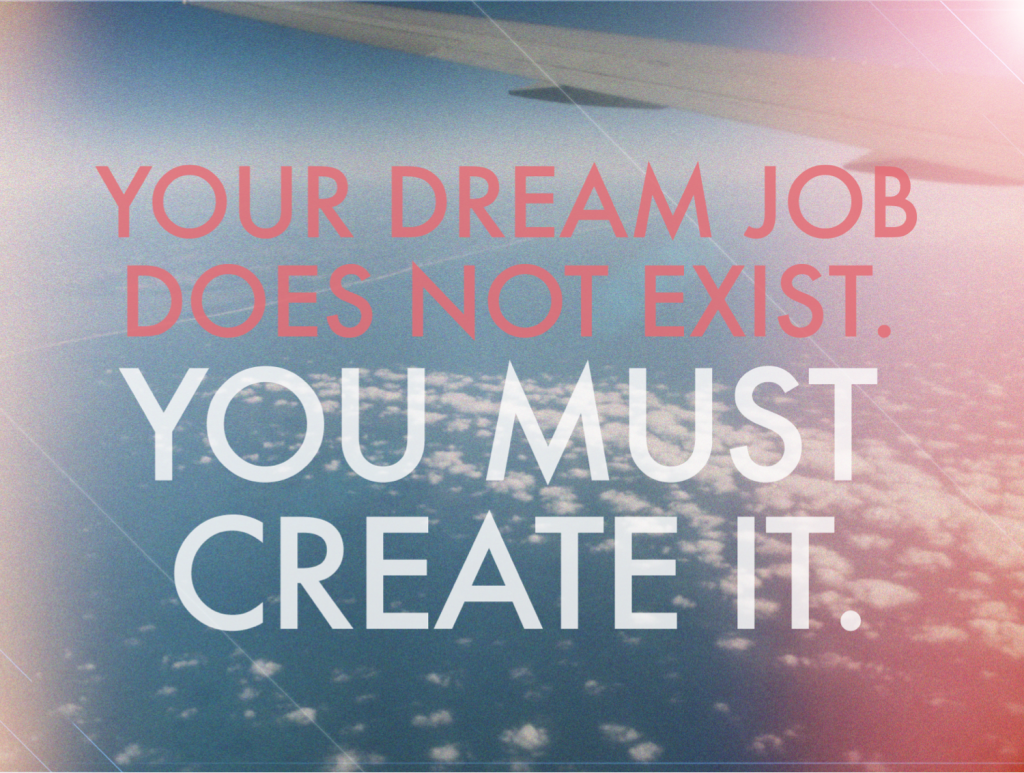 — Take a look at your energy —
So when you feel this "block", this will be a thought like "oh but what if I don't like what I'm doing right now …."…
> Feel it
> Breath through it
> Allow the emotion to flow through and then…
your mind is OPEN to start CREATING!.
— Ask yourself this every day, don't do any effort for an answer, trust me, it'll come and will be gentle with you! —
What do you enjoy?
What do you LOVE about your organisation?
Where can you make the biggest impact!
— And here's the reminder —
We have interviewed and worked with over 50 companies and from these learnings, there's 1 new job (or "role") that is needed right now, BIG time, so we created this 1 specific "Dream-Job".
The job is on the axis between
> Financial Management (getting return on investment, the win for the business). Grow your sales, prevent dis-ease, get employees to stand in lines to work for your company and  see engagement levels
>  Human Potential & growth (listening, interacting, encouraging, the win for the person).
The new, first, future job for CEO's (yes even CEO's are already taking on this role) that is starting to grow is the one of Corporate Wellness Manager.
Going from there and giving again the reminder: repetitive tasks to deep human tasks. ==> The current main challenge in Corporate Wellness is that you as, HR manager, is that you need to find your automation tools to CREATE TIME to go from repetitive tasks: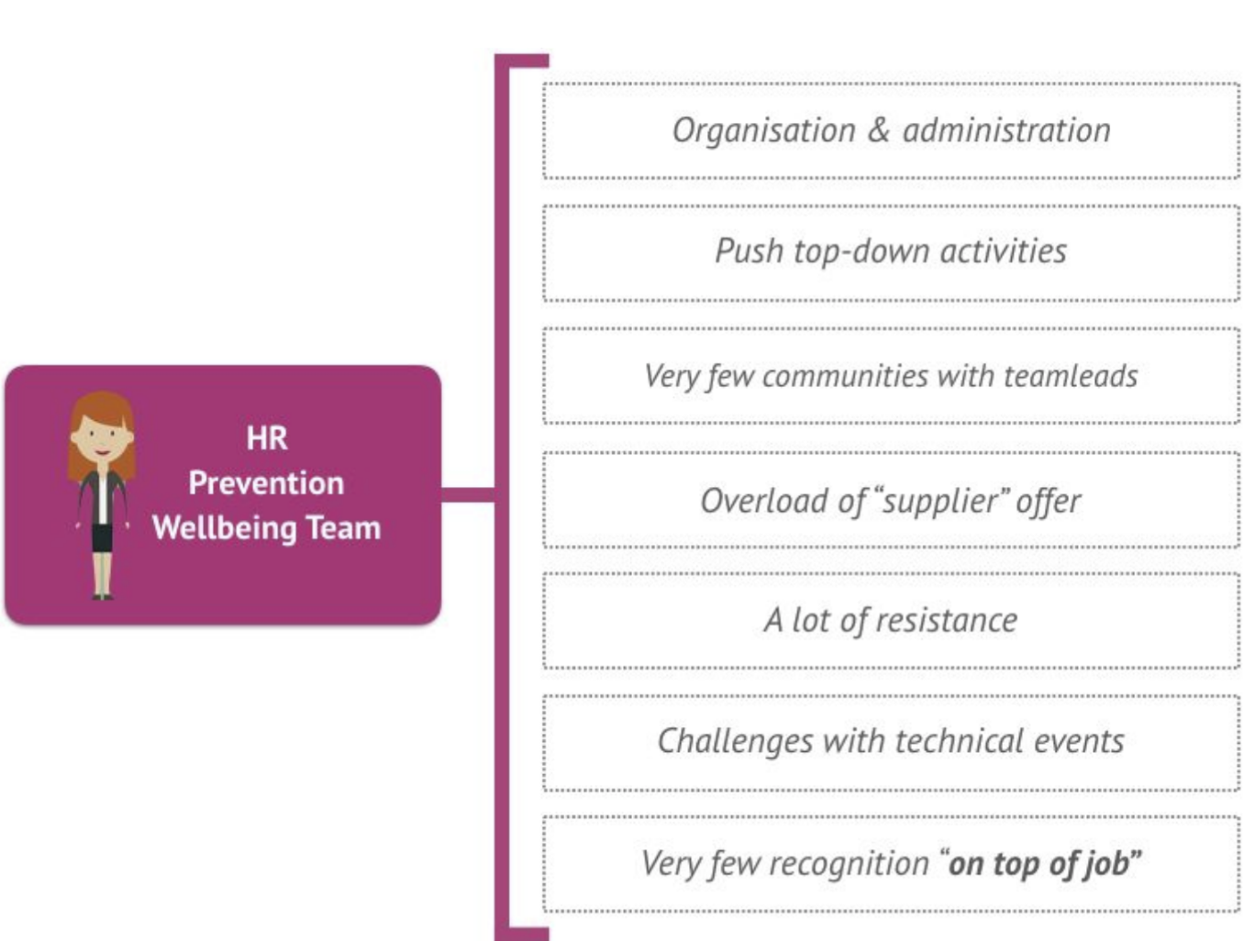 To a deep fulfilling job, warming your heart and the business objectives! ==>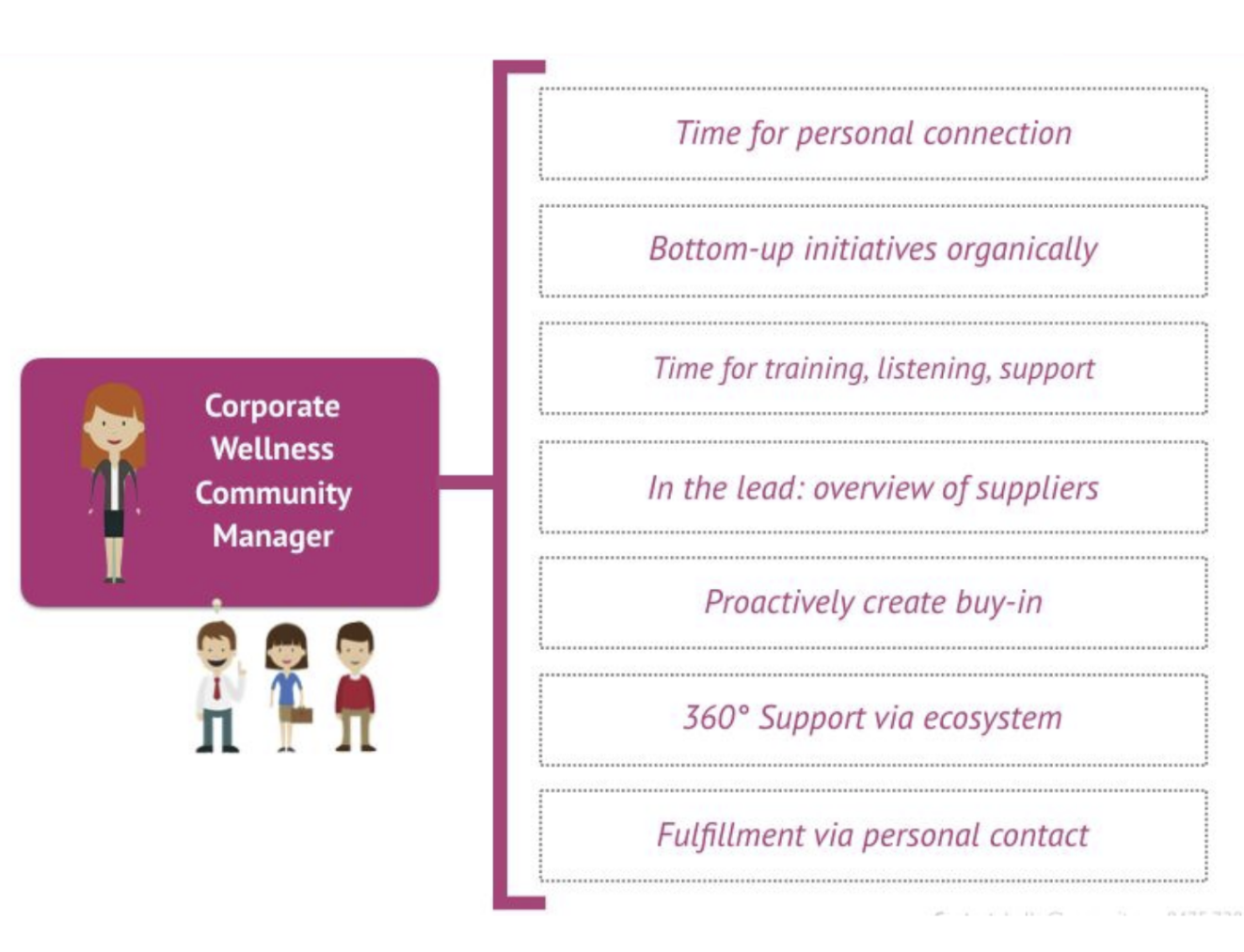 —
You can get going with all of the above.
Keep in touch how it goes 🙂
—
This next part is: about how we'd love to serve you in your & your company's journey
We at Moov-IT are proud to offer a full ecosystem of services!
We help you to
1) Create space via our signature course "Start2Dreamjob".
It's a "NEW" job as you'll receive MORE time to focus on what you love most: creating connection between colleagues with ROI for management!
It's five episodes and the first episode is already 20 pages of exercises going deeper into all of the above. To create YOUR dreamjob for 2019.
The e-learning module consists of video tutorials, templates and personal support.
You do this at your time, at your pace.
Find out all the value worth €2.500 EUR you'll receive for just €245 here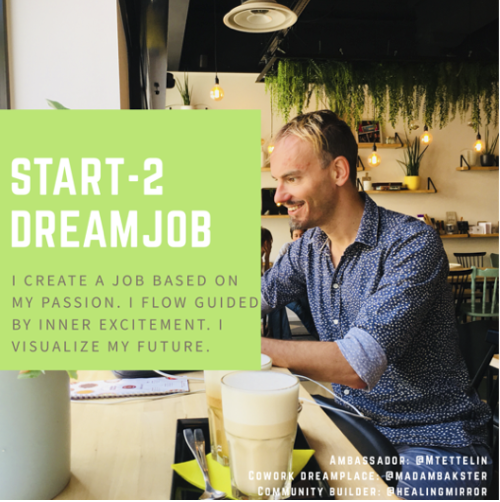 2) During the follow-up 
Dreamjob Level 1 & Dreamjob Level 2,
 we'll get you the intuitive 
automation tools
 WE use when working as Corporate Wellness consultants that saved us > 50% of our time when we are implementing Corporate Wellness projects.
But start with creating time.
If you already have the time, give me and email and my colleagues from our DigiHealth team will give you a demo to show how we automated over 37 tasks to create even more space.
And if you have any questions, mail me, I answer every mail.
Have an amazing 2019.
"One is in flow when the action comes effortlessly".
Love & light,
Griet Johanna,
Founder Moov-IT.eu