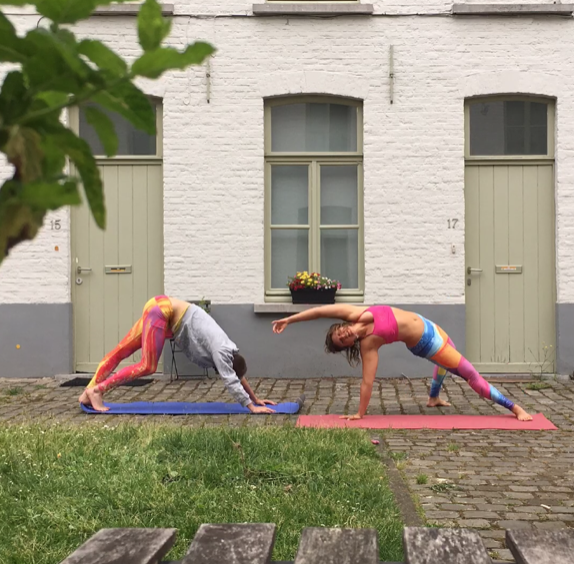 Connect

with yourself

Your body is a temple of wisdom, capable of incredible feats of healing and regulation. It's time to tap into its full potential and create the life you've always dreamed of. Start by treating your body with love and respect, listening to its needs and desires, and taking time for yourself. As you connect with your body and mind, you'll discover the true essence of yourself.

Take inspiration from our ambassadors @healingmirror and @tettelinm, who prioritize "me-time" during their morning yoga ritual. Let your body and mind guide you on the path towards your dreams.
Connect with others
Feeling connected to yourself is the first step towards creating meaningful relationships with others. In fact, we are all here to reflect and influence each other, and this is what makes relationships so special.
Imagine living in a world where everyone is grateful for who you are, instead of blaming you for their own issues. By embracing and loving the contrast that others bring into our lives, we can evolve and grow as individuals and as a humanity. It's not always easy, but the reward of meaningful and honest interactions with others is worth it.
Just look at @timf and @healingmirror, who work together and flow through honest emotions with grace and authenticity.
Play and observe
We've taken the ancient practice of Tantra and created a modern, playful approach called MoovTantra that can be used to improve relationships and facilitate personal transformation. When you connect with yourself and others, the fun really begins. Sexuality is a powerful tool for self-discovery, as it allows us to see our patterns, embrace our desires, and break free from limitations. With MoovTantra, you can explore your full potential and find freedom in mind and body, just like @wannesv and @healingmirror who are shown flowing through tantric acroyoga on the beach. So why wait? Start your journey with MoovTantra today!
What to expect in a private session?
A private MoovTantra session is likely to be a personalized and intimate experience that is tailored to your individual needs and goals. Here are some things you might expect to experience during a private MoovTantra session:
A safe and supportive space to explore and express your authentic self
Guidance and support from a trained and experienced practitioner
A range of practices, such as breathwork, meditation, and yoga, that are designed to cultivate physical, emotional, and spiritual well-being
An opportunity to learn about and practice Tantra and other spiritual traditions
A chance to work through any challenges or issues that you may be facing, and to find ways to transform them into opportunities for growth and healing
An experience that is both relaxing and energizing, and that leaves you feeling grounded, centered, and renewed.
It is important to keep in mind that every MoovTantra session is unique, and the specific content and activities may vary depending on the practitioner and your individual needs. It is a good idea to discuss your expectations and goals with the practitioner before the session to ensure that it meets your needs.
In the future we nourish and LOVE all our relationships
What's your next step
Do you want to feel amazing in your body?
Would you like to be excited every morning looking forward to your day?
Would you be excited to feel your heart opening, your body warming when interacting with friends and colleagues, feeling true connection?
Do you enjoy feeling sensual and passionate? 
Are you curious about new ways of relating in love relationships? 
Do you love exploring new ways of balancing me-time with relationships? 
The future is, now. By experimenting with "MoovTantra" you can create the future you dream of, right now.
Picture: @tettelinm & @healingmirror flowing into practicing tantric acroyoga  in Gent Belgium
What's your next step?
Are you ready to feel amazing in your body and excited about each new day?
Do you want to experience the warmth of true connection with friends and colleagues, and feel sensual and passionate in your relationships?
Are you curious about new ways of balancing me-time with relationships?
If you answered yes to any of these questions, then it's time to take action and start experimenting with MoovTantra.
This practice can help you create the future you've always dreamed of, right now.
Just look at @tettelinm and @healingmirror, who are shown flowing into tantric acroyoga in Gent, Belgium.
Don't wait any longer to start feeling amazing in your body and excited about your future. Take the next step with MoovTantra today!
Is MoovTantra for you?
Are you wondering if MoovTantra is right for you? Here are some signs that MoovTantra might be a good fit:
What's on your mind?
Share your thoughts, all is welcome here.