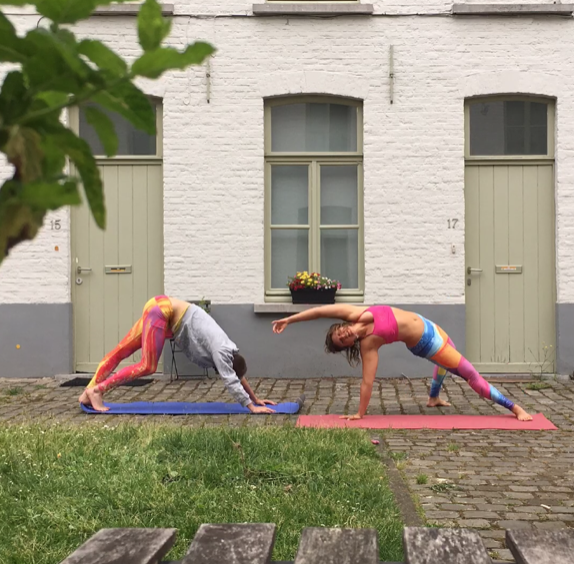 Connect

with yourself

Your body is a temple of wisdom! Think about it, if your leg breaks, your body heals it! Your body regulates your breath, immunity, temperature… Wooow!

The potential is unfolding.. Let your mind & body guide you to create the life you have always dreamed of.

Start by loving your body, your mind, being gentle and discovering the TRUE you. What is your body telling you right NOW?

Picture: Ambassadors @healingmirror @tettelinm taking together in "me-time" during Morning Yoga Ritual
Connect with others
Once you feel yourself, the game starts! We are all here to project and trigger each other…
That's thé magic of relationships, we mirror each other. Can you imagine living in a world without "blame" where everyone "thanks" you for being YOU! This is how humanity evolves, we show each other contrasts. Learn to embrace, love this contrast by interacting with others! And yeah.. it's not always easy :p
Picture: @timf & @healingmirror working together flowing through honest emotions :p 
Play and observe: MoovTantra
We've learned about Tantra, explored all aspects and created a playful way of Tantra "MoovTantra" that can be used as a method for creating healthier relationships and transformation!
Once you connect with yourself and others, fun begins. "Sexuality is thé quickest way to see ourselves, our patterns, the parts we love or wish to push away. The quickest road to freedom of mind and body!"
Picture: @wannesv @healingmirror flowing through tantric acroyoga on the beach
In the future we nourish and LOVE all our relationships
What's your next step
Do you want to feel amazing in your body?
Would you like to be excited every morning looking forward to your day?
Would you be excited to feel your heart opening, your body warming when interacting with friends and colleagues, feeling true connection?
Do you enjoy feeling sensual and passionate? 
Are you curious about new ways of relating in love relationships? 
Do you love exploring new ways of balancing me-time with relationships? 
The future is, now. By experimenting with "MoovTantra" you can create the future you dream of, right now.
Picture: @tettelinm & @healingmirror flowing into practicing tantric acroyoga  in Gent Belgium
What's on your mind?
Share your thoughts, all is welcome here.