Are You a Great Fit for Our Revolutionary Business Partnership?
Our Company Moov-IT Global Pty Ltd is partnering with
Are you a Local Expert in Wellbeing and / or Entrepreneurship?

In various geographical locations: Belgium, Netherlands, Spain, Italy Portugal, Sweden, Denmark, Germany, Australia, New-Zealand, US Indonesia, UAE, Turkey,  Canada, UK, Peru, Brazil, Switserland

You have an understanding of how to manage a small or medium-sized enterprise (SME)

You are interested in operating a corporate wellbeing business

You are excited to use Moov-IT's methods, processes and technologies.
Expanding your business services and model into your local market is an exciting opportunity, and partnering with Moov-IT can make it a smart strategy. By collaborating with local businesses and leveraging Moov-IT's technology and branding, you can incubate a portfolio of wellbeing cusotmers and tap into new revenue streams. Ensuring alignment with Moov-IT's core values and mission, and cultivating strong relationships with local partners, can help pave the way for sustainable growth and success.
Joining forces with Moov-IT brings a wealth of benefits to the table  
As a local entrepreneur, partnering with Moov-IT to start and manage a wellbeing business in your region brings many benefits.
By combining Moov-IT's intellectual property technology and brand with your own operational expertise, you can start successful wellbeing businesses quickly

There is a co-investment from Moov-IT Global and a local investor into the business to align financial interests

This approach allows for a strong collaboration between your company and local partners, leveraging the local expertise and knowledge while also benefiting from Moov-IT's advanced technology and branding.

This partnership can help you expand your business, increase revenue, grow from freelancer or exchanging time for-money, into business owner, investor and achieve long-term sustainable success.

As a local entrepreneur partnering with Moov-IT, you will receive a comprehensive growth schedule tailored to your business needs, as well as full support from our team. We are committed to help you succeed and will provide the resources and guidance necessary to achieve your growth goals.
The DNA Of Moov-IT entrepreneurs 
We are seeking open-minded entrepreneurs who are willing to embrace our revolutionary business mindset models, such as Sam Ovens' funnels, Peter Sage's Business Mindset, Kerwin Rae's social strategies, Abraham Hicks' Law of Attraction Vision, Bob Proctor's and Rich Dad Poor Dad's financial strategies and +250 more teacher' insights. Moov-IT will introduce leading experts in each topic of entrepreneurship and expects local businesses to integrate the offered approaches.
Moov-IT provides digital next-level innovation, and we need entrepreneurs who are not afraid to introduce new and better ways of doing things to their teams. A clear commitment to goals, co-creation, and teamwork is crucial. Strong people-skills are also important, as it's essential to recruit the right people, keep them accountable, and let go of those who aren't the right fit. We build teams of high business athletes and recruit the best for this mission.
We want entrepreneurs who are willing to invest time, effort, and finances into learning about all types of processes so they can effectively train their teams. Leading by example, showing up, and having both a process and result-oriented mindset are also important values for us.
Ultimately, we seek individuals who are willing to grow, evolve, be themselves, and go beyond superficial issues. In this business, we discuss unconscious patterns and create an environment of trust where healthy feedback is welcomed. We know when our athletes need space to make it to their next level. Strong individuals make even stronger teams. We want individuals who are willing to work on their personal growth in various aspects, such as relationships, movement/sports/physical, nutrition, mindset, emotion, social, and purpose. It's crucial to be conscious of their levels and growth objectives.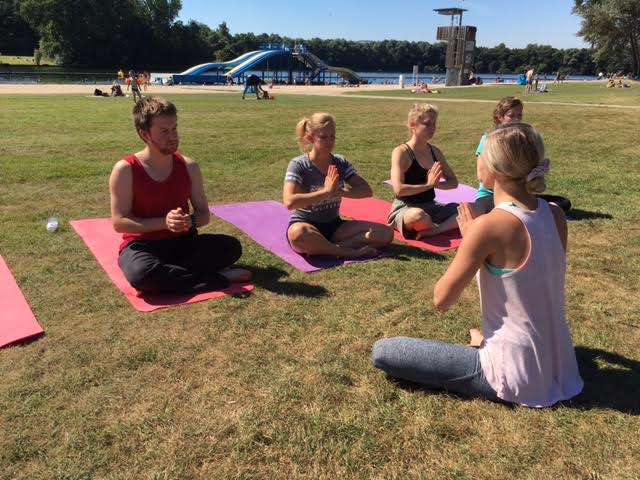 Your key Role
The main role of yourself as a business owner is to manage and oversee the operations, financials, and growth of your company.

The main role of a business owner is to learn and understand all aspects of the business, and then delegate or automate processes in line with the principles of the 4-Hour Work Week, in order to become an outstanding owner with expertise in sales, marketing, product, and finance.

The plan for the first month includes defining your own role, seeking out potential co-founders, creating an annual plan and KPIs for each department, finalizing weekly budgets, recruiting investors, and beginning organic marketing, sales, and product adaptation efforts.

Your dual role of a business owner as both the leader and coach of your team. The business owner is responsible for running the business, hiring employees, adapting budgets to achieve goals, and serving as the captain of the team.
Get ready to level up your business game! You will have the exciting opportunity to build out six essential roles within your team, positioning your business for unstoppable success.
Finance Role
You combine your skills for numbers, graphs, analysis, and automation with a passion for health and wellbeing. You protect your colleagues and are creating safety within the local organization by making sure the finances are mirroring healthy relationships. A balanced flow of money, time, and energy in and out of the company, combined with building reserves to have extra to share is the key foundation to create a lasting successful enterprise. You learn to manage your own work-life whilst updating and managing all aspects of your organization through numbers and graphs.
Corporate Wellness
You will support the Finance Manager. Whilst he/she focuses on corporate and group dynamics in terms of financing, you will focus on supporting each team member in their own energy balance. You'll help them find habits that work for them to thrive at work and will see those results mirrored in a successful organisation. You get access to the MoovMethodology and will learn to roll out the Corporate Wellness strategy in 12 weeks, working closely together with all your colleagues. You'll lead by example by sharing your own work life and productivity habits with your colleagues.
Sales
You love authentic relationships. You'll dive deeper into creating nurturing relationships with potential customers and will see results of your progress in customers feeling heard, seen converting into passionate customers and believers. You'll learn to 'date' and invite online strangers to 15-min connection sessions and 45-min analysis sessions where you keep finetuning their needs. You love meeting new people and understanding exactly what the thoughts are of potential customers. You are passionate and love calling, connecting, emailing, crafting the perfect orders and maintaining balanced relationships. You have the guts to share your thoughts and are confident to bring potential customers on the well-being journey of their lifetime!
Stay connected with us easily and conveniently through our platform's communication channels. As a valued partner, you'll have access to videos on all six key roles, allowing you to learn at your own pace and take your business to the next level.
R&D: Software Development and Online Course Creators
You are passionate about developing software and look forward to weekly meetings where your customer service colleagues share the new needs of customers. You work efficiently and stay updated with the latest technology. You are well-known with Crypto services and are enjoying building new ecosystems within the Moov-IT Tools. You enjoy measuring and analyzing software performance and user experience and translating the needs of customers into proposals together with your sales colleagues. As an online course creator, you adapt the Moov-IT Global courses into local with the precision of a gymnastics coach, making sure all steps are added for customers to thrive step by step.
Marketing
You are passionate about understanding the mindset of customer conversion and engagement. You focus all your efforts on strategizing and structuring the questions of customers into clear online communication. You adapt the Moov-IT Global funnels to local language and culture, play with ads on organic channels and are strategic in making content creation planning based on analysis. You use your own Worklife as inspiration to help new customers understand what is Corporate Wellness, why it is for them, how they can prepare themselves, provide all product technical information and work with customer service to be proud of testimonials. 
Customer Service
You are in daily contact with all customers and understand that each one of them is different. You aim to understand exactly what they need and help offer them the exact knowledge, tools for them to flow through all our products with ease and joy. You communicate improvements to make our customers' lives easier in the weekly meetings to R&D and create relationships with the customers that your sales colleague introduced to Corporate Wellness. You love relationships and help offer the right products at the right time to your local network. 
Begin your journey towards success by filling out our survey now!