Most custom builds are 100k – 150k AUD
We've coordinated the full build of our first tiny home ourselves. And this was the big cost posts (out of my head, email me for a detailed schedule). 
Very rough out of my head big cost posts : 
Plans from scratch 5k  aud

Trailer 15k aud

Windows & doors 20k  aud 

Outside/roofing timbers/ lining/gutters / painting work 20k  aud

Inside lining / painting custom furniture , flooring work 25k  aud

Electrics including appliances 20k aud

Plumbing 5k aud

Offgrid set up 20k or you can plug in aud

Shower 2k aud

Coordination, sourcing, payments, project management 25% 
How to finance this investment?
We work with building partners, whom, after we help you design your unique custom home, can assist with  loans.
We recommend getting a loan so that when you rent out you can use the rent as a way to finance the home.
You will be using your brainspace and guts and courage too to build this home. The return for that work will come through profits, money and energy to invest in your next tiny home!
What would be the minimum?
The minimum to build a tiny house would depend on who does labor.
. Who will build?
1. You want to build yourself but are new to building? 
 Our business partner has a course to build a tiny home yourself! 
2 You are a builder?
Sweet you can get started. If tinies are new to you, we can connect you with specific tiny home builders who can advise you on certain tiny home specifics (ex. weight, dimensions, floor support on a trailer, …)
3 You want to outsource the whole build to a builder?
Sure. We can advise you builders in the area who based on the plan and material list can take the whole build in their hands
4 You coordinate? 
You can coordinate and recruit all the builders, electricians, plumbers and save on project management. Our tiny home builders can support you in key moments or questoins. This way you decide on the pace of building and investment. 
I did option 4 where I hired >20 builders and coordinated + sourced   myself.  It took me about 100 days of work to research, understand, learn, order & coordinate everything, it is fun and very interesting.
So for minimum, labor really is the difference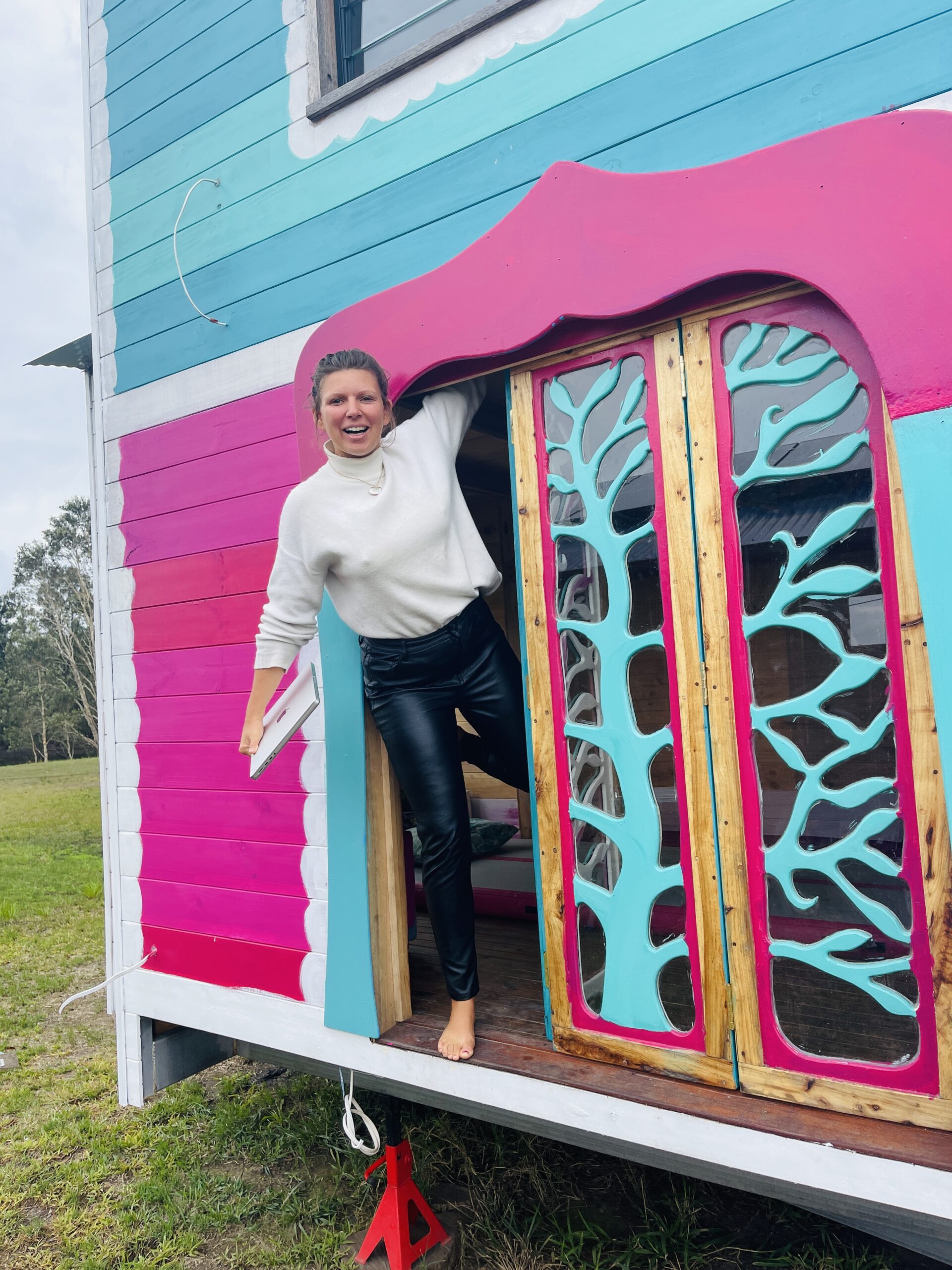 How to start?
How we can support: 
Step 1. Project planning and design
At Moov-IT we are all about preventing disease. This means that we build homes and have a checklist for ingredients to use/not to use. 
We also believe that souls need houses to expand.
That's why we have a design process where we help you visualise your home (athlete mindset we call this) at the very first start. 
You receive templates and make you own home with the templates and checklists. We have spent a lot of time structuring the whole process to make sure you can stay in control for every detail of the build as we believing in the power of 
cocreation.
The end result will be : designs, plans, engineering plan and material list + we provide quotes of our local suppliers we have agreements with.
We also help connect you to find a building spot in the area.
You are now ready to build. .
What about Taxes for the land? 
Option 1:  You rent the land as a person
Most tiny homes rent land for 75-100 per week allthough prices are going up to 200 aud / week. 
You should compare this to the local 1-bedroom rentals and take in account how much space on the land you get, if you get electric/water/sceptic system support, 
Option 2: Your business rents the land 
For Digital Nomads we recommend having it in your business.
One of our business partners can help you startup your Australian company Pty Ltd
 It's about 500 aud to start the company.
The benefit is you get GST back (10%) on purchases and all rent income goes nicely into the company as investment property. If you have another source of income, this is a great way to build and reinvest your property portfolio.  
This way your business leases the land. 
Option 3: You buy land as person or business
Buying land is definitely possible too.
At Moov-IT we are still collecting investors to figure that one out 🙂
Land here costs 1-3 mi AUD for nice acreage and we are leaning towards buying land with a home (ex 5 bedrooms) that we can rent on airbnb to cover mortgage and then have a Tiny Home Moovvillage on the land.
Some business owners have expressed interest.
We'd need to be 4-20 people to buy a 2 mi aud land, or have an investor.
Moov-IT itself is an ecosystem that sets up businesses and for this ecosystem we are currently looking for investors all over the world and a key investment would be land in Byron Bay.
 It's pretty well asked for in Byron and the land here sells quick and land goes up in value x2-4 in the last 5 years so for someone with capital looking for an investment this would be great and we manage it.
Let's get started with ease!
Summary
Based on what we learned, we would recommend to start with
Step 1 = visiting the MoovVillage or other (tiny) homes to find your design voice
Step 2
= making designs, plans, to have a vision of what you want it to look like. We work an amazing graphic designer who really brings the feel, furniture, colours,.. then translate  to architect for 3d, then to an engineer for exactly where construction beams need to be etc.. it's big for the mind and so much fun and taking it step by step is important
Final financial thoughts on RETURN on Investment
Let's assume the total cost for your build is 100k 
If you would like this money you invested to work for you and have it back with a value for your risk, courage and guts of +40% = you are after earning 140.000 eur in 5 years 
VERY roughly calculated to give an idea: 
140.000/ 5 years / 12 months = 2.333 aud / month
This means you need a base rental monthly income of 2333 aud 
Is 2.333 Aud income (after operational costs) per month realistic? 
We use an average occupancy rate of 50%. This depends on what area you would build. 
Income per night: 
2.333 / 15 nights (we rent out 50%) per month = 155 aud income (without any costs) to cover your initial investment + risk reward
That means a base rate of 155 aud per night. The costs on top for your rental customer are: 
+ Cost for management (welcome guests, linnen, communication,..) =  15% 
+ Sales/Marketing: Airbnb booking or our (future) Moovvillage App cost 15% 
+ Maintenance (repaint, oil, repair,…) = 10%
+ Cost cleaning (separate paid by customer) 
+ Land lease cost / month
= 600 aud or / 15 nights = 40/night rented 
So base rate of 155
+ 40% on top = 62 aud
+ 40 aud / night for land
= 247 aud / night 
If you want to have your investment back  + 40% profit you need to rent it 50% of a year for 247 aud per night
Which is a good price in Byron Area for a Stand-alone tiny home for 2 people with fully setup kitchen, bathroom,…